I don't know if, like me, you rediscovered your long-forgotten love for Olympic-level figure skating. But in case you didn't know, it's the Winter Olympics! And they are being held in Pyeongchang, South Korea.
For the occasion, I thought I would share with you my love for Korean food. It truly is delicious!
The best-known Korean food on our part of the world must be Kimchi. There are different kinds of kimchi, but the most common is the one made from fermented Nappa cabbage. It gives a spicy and funky taste to dishes. Used to make recipes or simply served as a side dish, it's essential to Korean cuisine.
It can be mixed with rice and pork for a fast and easy meal.
Or used to make a stew.
If you buy a jar of kimchi and are afraid it will go to waste, don't worry. There are so many recipes you can make with it, as proven by this extensive Pinterest board.
A very popular dish in Korean restaurants is bibimbap. It's a bowl of rice with vegetables, meat and a raw egg on top that is typically served on a hot stone plate. The temperature of the plate cooks the egg as you stir all the ingredients together before eating.
You can easily recreate versions of this meal at home.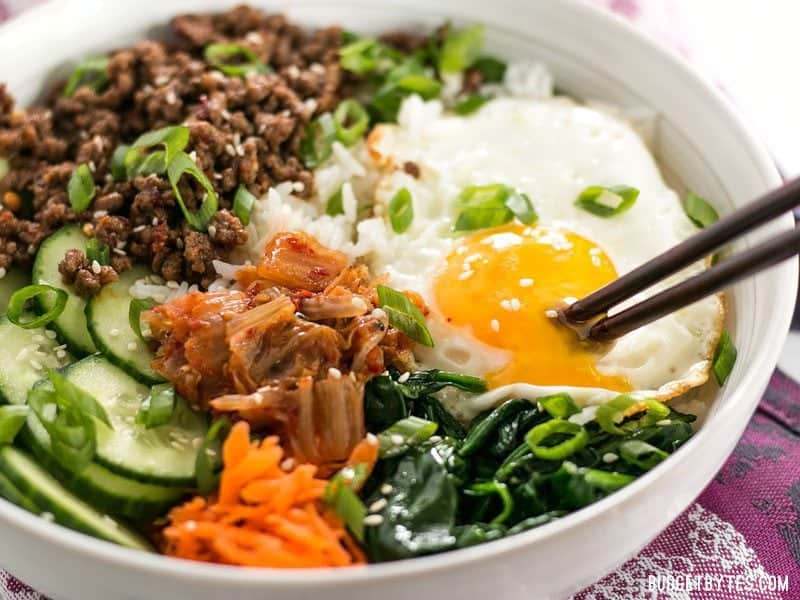 Another popular import from Korea is the amazing BBQ. There are great restaurants in Montreal where you can grill your own meat at your table. It's great fun. For good Korean BBQ in Montreal, check out MTL Blog's list here.
If you want to make Korean dishes at home but aren't sure of what to buy, check out Maangchi's guide for shopping for Korean ingredients. She also has great recipes on her website for homemade Korean feasts.
In Montreal, it's not too complicated to buy Asian ingredients. I found kimchi in stores in Chinatown and near the Jean Talon market. A jar costs less than 5$.
Where to find it:
Marché Oriental 7101 St Denis St, Montreal, QC H2S 2S5
Marché Thai Hour 7130 St Denis St, Montreal, QC H2S 2S4
G & D Supermarket 1006 St Laurent Blvd, Montreal, QC H2Z 1J3
I'm told there are also a few markets with Korean ingredients near Guy Concordia.
Another option to find Korean ingredients is online. I was surprised to discover that you can order food on Amazon. When I needed Gochujang (hot chili paste) to make kimchi stir-fry, I ordered it online for 9.99$ Not too bad!
Hope I inspired you to try some new recipes and dishes.
Have a great day!