As a reader, 2017 was a good year for me. Except for a difficult month of December during which all the books I started seemed to disappoint me, I discovered great books throughout the year. As a result, I was more and more eager to take a break from watching Masterchef Australia to read another chapter.
Excited to share with you my favourites, I prepared a list of the books I read and liked the most in 2017.
FICTION
THE UNEXPECTED EVERYTHING by Morgan Matson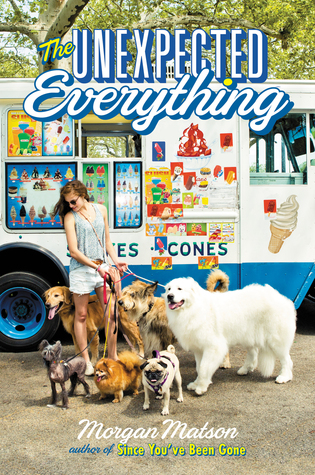 I have to admit that I love young adult novels and their love stories. However, the ones I adore are not just about two people falling in love. I like stories about a person coming into her own and then falling in love as a bonus. Morgan Matson does this kind of stories very well.
In this book, Andie, a type-A personality, has all her plans made to be accepted to an Ivy League school and becoming a doctor. But when a scandal brings her father's career to a halt, all her plans go out the windows too. Alone at home with her dad for the first time in years, with no internship or prospects for the summer, she'll have to learn to deal with the unexpected. If this is not my favourite book by the author, I really did like it. It was fun, engaging and heartwarming. As a light page-turner about youth, summer, and love, this book did the job perfectly.
THE CHILDREN OF HURIN by J.R.R. and Christopher Tolkien
When he died in 1973, J.R.R. Tolkien left us the amazing Lord of the Rings series and many other writings about the same universe. The Children of Hurin is a tale about the evils roaming Middle-Earth ages (about 6,000 years) before the events featuring Frodo, the ring and the creature called Gollum.
The first versions of this tale were written in the 1910s but never completed. Years later, the author's son returned to the manuscript to make one cohesive novel out of it. With illustrations by Alan Lee and a story full of tragedy and epic grandeur, the novel is a sure pleaser for LOTR fans. Far from the candidness of The Hobbit, this story of Hurin, Turin, and Niënor is a sad and mournful one. But if you ever wanted more legendary stories about the men, elves, and dwarves coexisting on Middle-earth, this is the book for you.
AS BIRDS BRING FORTH THE SUN AND OTHER STORIES by Alistair MacLeod
Eager to learn more about Canada's literature outside Quebec, I examined lists of great Canadian classics in search of books to read. This is how I came upon this collection of short stories about inhabitants of Nova Scotia's Cape Breton.
In a matter on pages, it becomes clear that MacLeod is an exquisite storyteller. The tales of this book speak of our culture and history in a very special way. These tales are about people: the small things that they do (mine, fish, sing) and care about (dogs, Santa Claus, funerals), with the harshness of the Canadian weather as a background. But with the simple act of singing a Gaelic song from his past, the miner from Highlands descent keeps the Scottish heritage he thought long gone alive. Together, these stories make a great picture of Canadian life. With a way to turn phrases that will make you stop to relish its writing, this is a truly beautiful book.
MAUD by Melanie J. Fishbane
Maud is a historical fiction about the teen years of Canadian author Lucy Maud Montgomery (Anne of the Green Gables). As you may know, the author's mother died when she was a baby and her father moved west to earn a living. L.M., or rather Maud, was left with her strict grandparents. Many stories that she wrote are about orphans raised by difficult adoptive parents. In many of them, these parents become much more affectionate over time. I always wondered if that's what happened in her life, or just hopeful fantasy. If this novel couldn't answer me, I was curious to read someone's take on Maud's life.
In this novel, as we follow Maud in her teen years, you do get the kind of stories you're used to having in Montgomery's own books: the strict parents, the humiliations at school, the girls' rivalry and the boy crushes. It's a fun and interesting novel that seems relatively faithful to the author's real life. However, if the book stays close to the style of the author it portrays, it lacks the best part: the extremely graceful, poetic and charming way to say it all.
THE GOOD SOLDIER: A TALE OF PASSION by Ford Madox Ford
The Good Soldier is a British classic from 1915 with a complex story centered around four main characters. There are two Americans, the narrator and his ostensibly beloved wife, and two British, the romantic Captain Ashburnham and his resentful wife. I was told it was a must-read in English literature.
Here's a tip: This story about passion and keeping up the appearances can be difficult to grasp if you don't keep in mind the fact that the narrator is an unreliable one. So, beware. This tale is the rambling of a man, unsure of anything, looking back at his life and telling it as it comes to him. Therefore, it's full of conflicting explanations of the same events and intricated ever-evolving truths. It's a very interesting read if you let go of the idea that you need to understand exactly what's going on at any giving time. If you're up for a challenge, this is a great book for it.
FEAR AND LOATHING IN LAS VEGAS: A SAVAGE JOURNEY TO THE HEART OF THE AMERICAN DREAM by Hunter S. Thompson
Written with what I guess was a drug-induced fervor, Fear and Loathing in Las Vegas is a tribute to the 60s counterculture. Drawn by the reputation of this book and its synopsis, I resolved to give it a shot.
In this weird classic, journalist Raoul Duke, accompanied by his attorney, arrives in Las Vegas to cover a motorcycle race. Based on real trips taken by Thompson, himself a journalist, it's sometimes hard to say what really happened in this book. High on every drug you can think of, the characters go through a bizarre chain of events either occurring in their real lives or inside their hallucinating brains or both. Evolving in a sort of alternative reality shaped by alcohol, LSD, ether, mescaline, sleep deprivation and more, the characters aren't sure either. Despite the questionable moral and the sometimes disjointed ramblings of the narrator, this is an interesting book that is worth a try.
CARRY ON by Rainbow Rowell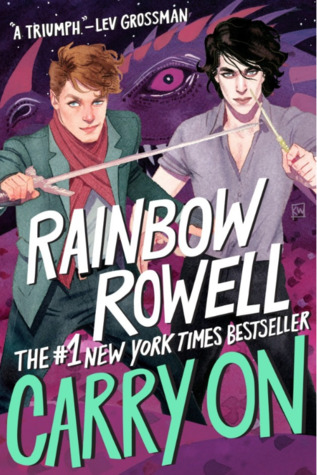 Prior to Carry On, I had read a few of Rowell's novels and thought they were good. However, I had doubts about this one because I feared it was going to read like a bad Harry Potter fanfiction. Since the book follows an orphan wizard with a destiny in his school year's adventures, it does feel a bit like it. However, if it's a fanfiction, it's a great one in which Harry and Draco are reluctant roommates obsessed with each other (and the mean snobby one is a vampire).
Simon, a simultaneously extremely powerful and totally helpless wizard, starts a new school year in a peculiar fashion when his roommate and nemesis, Baz, isn't there to greet him. He's then convinced that his family and he are planning something bad. On top of these problems, there's Agatha, who dumped him, and this mysterious monster, the humdrum, that can suck the magic out of the world. This book was a real page-turner thanks to compelling character arks and a suspenseful story. I would read another volume like this one over Harry Potter and the Cursed Child any day.
AUTOBIOGRAPHY
TALKING AS FAST AS I CAN: FROM GILMORE GIRLS TO GILMORE GIRLS AND EVERYTHING IN BETWEEN by Lauren Graham
A huge fan of Gilmore Girls, I couldn't go by this book and not buy it. For a few months in my teenage years, I even wanted to become an Inn manager like Lorelei. So, of course, this book made my to-read list.
In this book, the actress shares a few stories about her journey in life, from her birth in Honolulu to her return to Gilmore Girls for the Netflix special. Having written a novel before, Lauren knows how to keep the reader engaged. But no matter how funny and interesting her stories are, as a memoir, this book stays on the surface. You will get the insight on the making of Gilmore Girls that brought you to the book. However, you won't really get to know Graham. This is a memoir from a person dedicated to keeping her privacy. To me, it was a fun and quick read. However, it does feel like reading the fun facts to the more complex, engaging, and real, story.
SCRAPPY LITTLE NOBODY by Anna Kendrick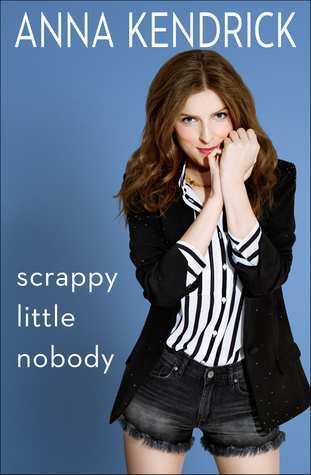 Autobiography by people under 40, especially celebrities, can sometimes raise eyebrows. Without having lived most of your life, what can you really have to say that will appeal to a large audience?
However, if you made your Broadway debut at age 12, started making movies in High school and had been nominated for an Oscar, you might have a story to tell. But the real appeal of Anna Kendrick, for me, is how she tells it all. The actress is not shy about sharing the awkward, the sad and the humiliating stories that brought her to where she is now. Plus, she tells it in a hilarious way. This is not a memoir that has been censored so much that the author's voice doesn't shine through anymore. Kendrick's writing is dynamic, compelling and feels like she's just chatting with you about how bad high school, boys, and Hollywood can be when you are a self-conscious awkward person. I'm telling you, if she ever decides to write another book in a few years, I'll buy it.
KITCHEN CONFIDENTIAL: ADVENTURES IN THE CULINARY UNDERBELLY by Anthony Bourdain
Published more than 15 years ago, Kitchen Confidential has become an international bestseller and has brought fame to its writer. As Bourdain explains in the updated version of the book, this popularity changed his life. From the anonymity of cooking in New York's kitchens, he has become a regular on our TV screens as a host to many shows about food and world travel over the years.
Even after all those years, his tell-all book is still shocking and unapologetic. This is a story of a young punk guy finding his love for food and making his way in the food industry. On the way, he will reveal all the dirty secrets of a seemingly glamourous world (damn those celebrity chefs!) and destroy that image with stories of rats, drugs, and tyrannical bosses. From the hilarious explanation of the kitchen lingo to more personal tales of selling his records on the street to buy drugs, Kitchen Confidential reads like a rock and roll tour of America's kitchens. And it is a riot.
NONFICTION
SUPERFREAKONOMICS: GLOBAL COOLING, PATRIOTIC PROSTITUTES AND WHY SUICIDE BOMBERS SHOULD BUY LIFE INSURANCE by Steven D. Levitt and Stephen J. Dubner
In Freakonomics, an economist and a journalist teamed up to create a book studying the economics of cheating, crack gangs and real estate agents. Superfreakonomics is the follow-up to this international success. Having read and loved the first book, this was an easy pick for me.
Do you need to love economics to appreciate this book? Absolutely not. What's interesting about the Freakonomics books is the way the authors tackle seemingly random subjects like prostitution, global warming, and suicide bombers. After analyzing the data, they ask the 'right' questions (which are never the one you think) and end up turning what you thought to be true inside out. Their unconventional approach makes you discover a whole new world of knowledge you won't get from another source. With a dream team made out of a top economic researcher and a journalist that can vulgarize his findings for the average reader, this book is accessible and fascinating.
DARING GREATLY: HOW THE COURAGE TO BE VULNERABLE TRANSFORMS THE WAY WE LIVE, LOVE, PARENT, AND LEAD by Brené Brown
Brené Brown is a research professor that studies subjects like wholeheartedness, empathy, and shame. She has written great books like The Gifts of Imperfection and is well-known for her powerful TED talk.  As a perfectionist always anxious to do everything perfectly, I welcome tools that could help me understand why I put so much pressure on myself and how I could stop, or at least try.
In this volume, Brown talks about daring to be vulnerable and imperfect. Instead of shying away from vulnerability, she proposes to embrace it and, by doing so, to find a new (healthier) way to live, love, parent, and lead. What I like about Brown's approach is that it's based on real data and not just life experience. We're not on random guru's life philosophy territory here. But it isn't research literature either. In my opinion, Brown has found the right balance to make her findings accessible to a large audience. As a result, her books are accessible, insightful and helpful.
THE SUBTLE ART OF NOT GIVING A FUCK by Mark Manson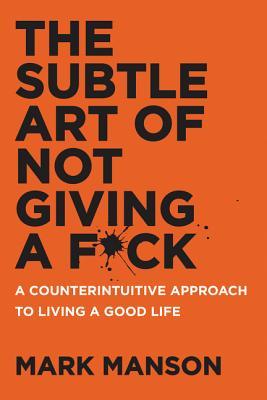 The punchy title of this book from blogger Mark Manson can be a little misleading because it's not about not caring at all. It's about picking your battles to stop worrying about every damn thing. I thought I needed that in my life. This is a self-help book, yes, but a really funny one.
Throughout the book, Manson explores fascinating subjects like the new pressure, reinforced by social media, to be super happy 24/7. He claims that the stress created by this desire for constant happiness actually makes us miserable and that what we should do is to embrace the just-okay moments of our lives. With chapters like The Value of Suffering and The Importance of Saying No, the book tries to make you let go of your needs to seek perfection, please everybody and be right all the time. It's a really fun and helpful book that could give you tips for trying out a more relaxed approach to life (that isn't nihilistic).
If I really was much more relaxed and accepting of my imperfections, I would probably have finished this list earlier. However, not beating myself up because of it is probably an improvement. Right, Brené? Mark?
Before you get to know what books I read and loved in 2018. You can follow my progress on Goodreads.
Did you read a great book in 2017? Did you disagree (or agree) with my opinions? Please share in the comments 🙂
Have a great day!