Trying a lot of new recipes means that you're going to prepare some dishes you'll adore and others that you will never do again. Nevertheless, I love testing new recipes because I'm always searching for my new favourite dish. Finding a great recipe that you want to make again and again makes all the other misses worthwhile.
Here's a list of dishes I've tried, loved and now routinely make. They make for easy, fast and cheap meals perfect for weeknights.
Just click on the images to see the recipes!
Vegetarian cauliflower and potato curry
I make this recipe almost everytime cauliflowers are on sale and serve it with store-bought naan bread. It's an easy and cheap recipe perfect for a quick dinner after a long day at work.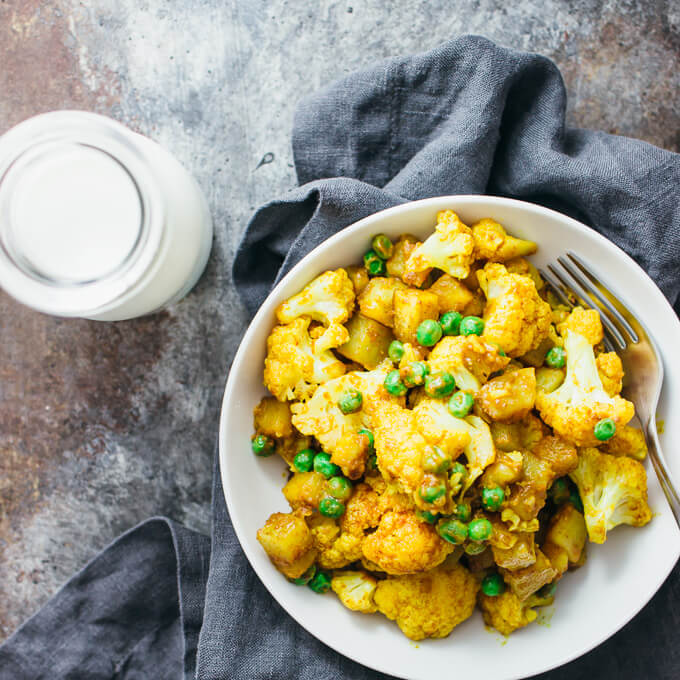 Chef's notes: You might have to let the cauliflower cook a few minutes longer, depending on the size of your florets. I add half a cup of coconut milk to make the recipe less spicy. 
2. Udon noodles with pork and mushrooms
This is a great recipe to get rid of old vegetables. If you have leftover courgettes or red bell peppers in your fridge, just put them in there. It's going to be delicious.
Chef's notes: Using udon and soya sauce can give a very salty result. For this reason, I really recommend using soya sauce reduced in sodium while doing this recipe. 
3. Delicious pork schnitzel
A schnitzel is a piece of meat (usually pork, veal or chicken) that has been tenderized, breaded and fried. It's not the healthiest choice on this list, but it's easy to make and gives a very yummy result. I serve mine with lemon, potatoes, and a green salad.
4. Sweet potato, lentils and feta salad
I often make this recipe during hot summer days. It's a fresh and light lunch that give your stomach a rest. This salad packs enough proteins to be a meal of its own. Therefore, I don't serve it with anything else.
Chef's notes: I don't have pomegranate molasses at home. As suggested in the recipe, I use balsamic vinegar instead. Also, I don't use puy lentils specifically. A regular can of cooked lentils does the job just fine.  
5. Thai basil beef bowl
The best thing about this recipe is the sauce. I love it so much. I'm not always on board to buy fresh herbs for just one recipe, but the taste of the fresh basil in this one makes it extra special. I highly recommend you try it.
Chef's notes: The sauce is made out of very salty ingredients like fish and oyster sauce. For this reason, it's best to use soya sauce reduced in sodium. If not, the result might be too salty. 
6. Lentil and mushrooms bolognese
This is a bolognese sauce that you can do in 20 minutes using only a few ingredients. Then, you cook some pasta and your meal is ready. It's super easy and delicious.
Chef's note: The recipe is gluten-free and asks for gluten-free tagliatelle. However, you can use regular pasta without problems. I always use whatever type of pasta I have at home. 
7. Thai quinoa salad
The first time I made this recipe it was for a picnic in the park. It was really tasty and fresh. Therefore, I made it multiple times since. It can be a great side dish or lunch. With quinoa, edamame, and peanuts, it's a very nourishing salad.
8. Korean ground beef
I found this recipe while I was looking for something to do with a pack of ground beef I had in the fridge. It seemed simple and I already had all the ingredients for it. It's very good served with white rice and vegetables on the side.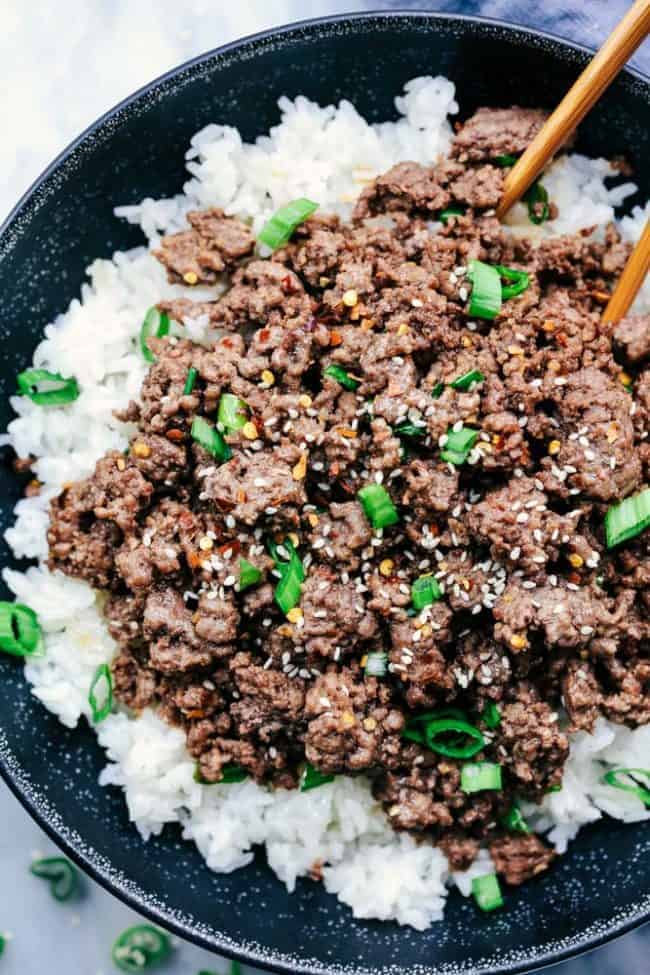 Chef's note: You could also make this recipe with ground pork. 
9. Slow-cooker black bean soup
I love soups in general and this one in particular. It's an added bonus that you can make it in the slow-cooker. I serve this soup with tortilla chips to add a bit of crunch.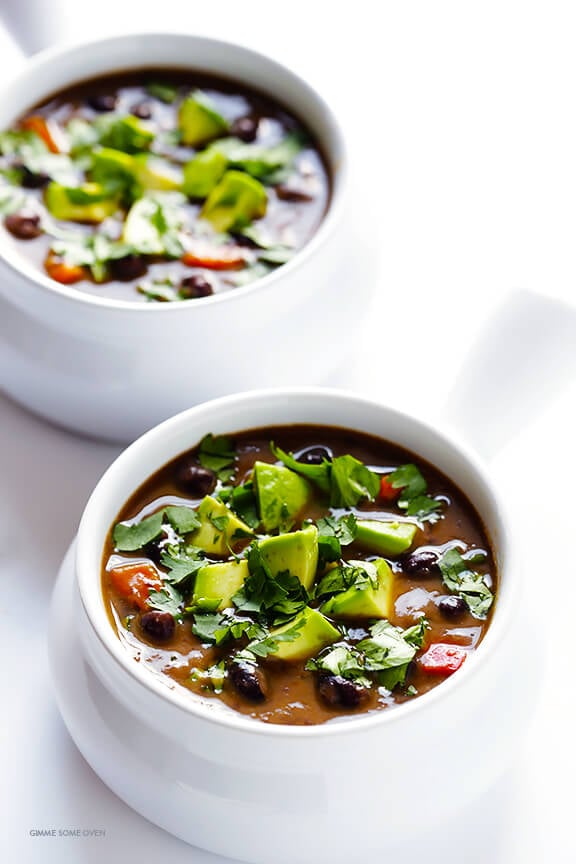 Chef's note: I puree all the soup because I like how it blends all the flavors together. It becomes a not so appetizing gray color but tastes so good it doesn't matter.  
10. Kimchi fried rice
This is a new obsession of mine. I just love the taste of this kimchi fried rice. Plus, it really doesn't take long to make. I serve it with a green vegetable like green beans.
Chef's note: Before I found out I could order Gochujang on Amazon, I didn't have any and used Sriracha instead. It worked just fine in this recipe. 
11. Beef and cabbage stir fry
This recipe seems inspired by what you find bitting into an egg roll. And we do know how well these flavors go together. Bonus: it's really inexpensive to make.
Chef's note: This recipe could also be made with ground pork. If you serve the stir fry with rice, I suggest making more sauce to flavor the rice as well. 
I have a lot more recipes to try on my Pinterest. I will keep you posted once I've tried enough of them!
Have a great day 🙂