You know people who are really into scary movies? People get kidnapped, tortured or killed and they want more. That's not me. I got scared watching no Country for old man in the dark once. It's not even a horror movie! It's just a thriller.
As you would guess, considering my low-tolerance for this kind of stuff, there will be no horror movies marathon for me on Halloween. Instead, I will gush over cute pictures of toddlers in adorable costumes AND watch my favourite Halloween TV specials. I love these special episodes so much. Sometimes, they are a bit spooky and introduce a supernatural element in a usually realistic show. Other times, there is a mystery that needs to be resolved by the characters. In all cases, in my eyes, these episodes stand out for being a more exciting than the typical one.
Here is my list of favourites:
PARKS AND RECREATION – S2 EP7 Greg Pikitis
PIKITIS! In this episode, Leslie Knope, our cherished Deputy Director of the Parks Department, is at war against a teenage vandal, Greg Pikitis, who spoils her Halloween every year by causing mayhem in her beloved parks. This year, it gets personal as Leslie enrolls her then-boyfriend, police officer Dave, played Louis C.K., to make sure the teen doesn't outsmart her once again.
COMMUNITY – S2 EP6   Epidemiology
Ya bit? Huh? Ya bit? Because our beloved study group doesn't do anything like normal (boring) people, for Halloween, they are battling out a rabies/zombies epidemic caused by army surplus bought taco meat. In locked down, they will fight to survive and also listen to a lot of ABBA (it makes sense in the show universe). This is, in my opinion, one of the best episodes of the series.
CLUELESS – S3 EP4 Scream Murray Scream and S3 EP5 Scream Murray Scream Again
Following the craze surrounding the Scream movies, in 1998, the television series Clueless recycled the concept in its Halloween special. The series might be less good than what I remembered, but the concept of these episodes is still fun. Like in the Scream movies, there is a villain contacting his victims by phone and the characters keep referencing the horror movie genre's rules. When you look at it now, this two-episode special is so 90s! Dionne is even dressed as Ginger Spice!
The entire episode is on YouTube.
Also, at 4:30, they are at Chilton! Is this kind of a Gilmore Girls/Clueless crossover?
BUFFY THE VAMPIRE SLAYER – S2 EP06 Halloween (On Netflix now)
Any Buffy episodes could be fitting for a Halloween TV marathon, but even in this show about demons, vampires and all other kinds of evil, there were Halloween specials and they were good. Just the concepts alone were great. In season 2, on the night of Halloween, people all over Sunnydale get magically transformed into what they were personifying. As the number of monsters that needs to be contained thus increases drastically, Buffy, dressed as a noblewoman, is turned into a damsel in distress. My other favourite special of the series is Fear Itself (S4 EP4) during which the Scooby gang is locked in a haunted house where nightmares come to life. But, this time, Buffy is ready to fight.
THAT 70'S SHOW – S2 EP5 Halloween (On Netflix now)
This Halloween special isn't a scary one. There are no monsters or anything of the kind. Instead, there are dirty secrets and the great TV classic of revealing them all in a game of 'You shame me, I shame you.' In this episode, the gang goes back to its old abandoned school (which everyone suspects was burnt down by Hyde). There, they will find their student records and the group will be torn apart, in a hilarious way. As it turns out, precious Jackie has the ugliest middle name and Eric might have ruined Hyde's life.
BROOKLYN NINE-NINE – S1 EP6 Halloween (On Netflix now)
Well, these episodes' names are pretty straightforward, aren't they? In Brooklyn Nine-Nine  Halloween special of season 1, a tradition was born. Super competitive Jake Peralta challenges Captain Holt by saying he can steal his watch before midnight. The following rivalry between these two turns the whole precinct upside down and creates an appetite for vengeance. After this night, year after year, there will be a new challenge on Halloween to determine who is the best detective.
The most recent one:
SABRINA THE TEENAGE WITCH – S1 EP5 A Halloween story
I don't think I would really watch all 7 seasons of Sabrina again. However, I do understand why I liked it as a child. The magical-filled reality it presents is so appealing. In this episode, Sabrina wants to go to her crush's party but instead has to attend her family's Halloween dinner (Halloween is like Christmas for the witches). When you are a teenage witch, why couldn't you attend both events, at the same time? As Sabrina creates a double to send to Harvey's party, she steps into the wardrobe with her aunts to go to… well, they can see the earth from where they are… so, I'm guessing, the moon?
The entire episode is on YouTube:
FRIENDS – S8 EP6 The One with the Halloween Party (On Netflix now)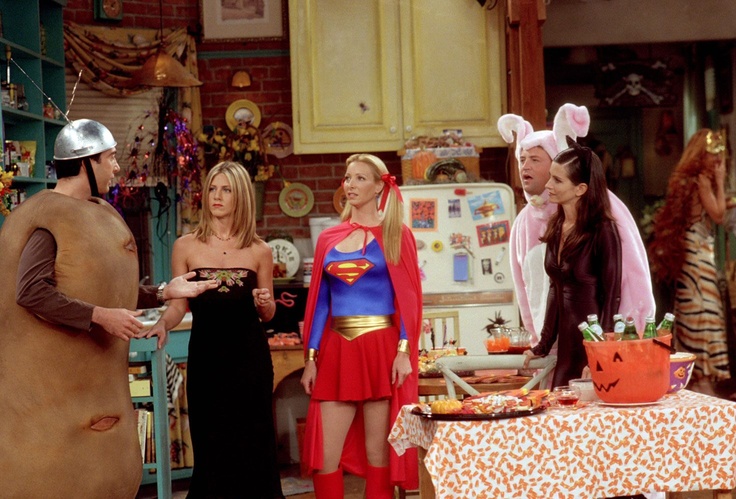 This series wasn't big on Halloween specials. But for season 8, we'll laugh along as the group of friends all dress up to celebrate Halloween. Chandler is a giant pink bunny thanks to his wife Monica. Joey dresses in an unflattering version of Chandler and Ross is in a costume so geeky he has to explain the joke. As the episode unfolds, Joey and Ross try to seduce the same girl, a pregnant Rachel tries to interact with kids and Phoebe gets to know her twin sister's beau a little too well.
SPONGEBOB SQUAREPANTS – S1 EP13 Scaredy Pants
This one is for the kids, maybe… The end of the episode would have creeped me out when I was a child. As an adult, I think it's amusing. During that Halloween special, our favourite sponge gets tired of being scared non-stop on this spooky holiday. With the help of Patrick, he'll try to do the scaring. Will it work? You will need to watch the episode to find out. Good news, it's all on YouTube.
Happy Halloween my little monsters 🙂
Any ideas to add to my list?