This week was my sister's 29th birthday and, for the occasion, I bit a little more than I could chew. Because I am not very into sweets, I don't cook a lot of desserts and am not particularly good at it. However, as I wish to get out of my comfort zone in the kitchen, I set myself a challenge. For my sister's birthday, I would make her a cake that would make her drool.
Looking for recipes on Pinterest, I set my eye on a dessert that combined a lot of what she loves: a three-layers cake made of brownie, cheesecake and cookie dough.
You can find the recipe here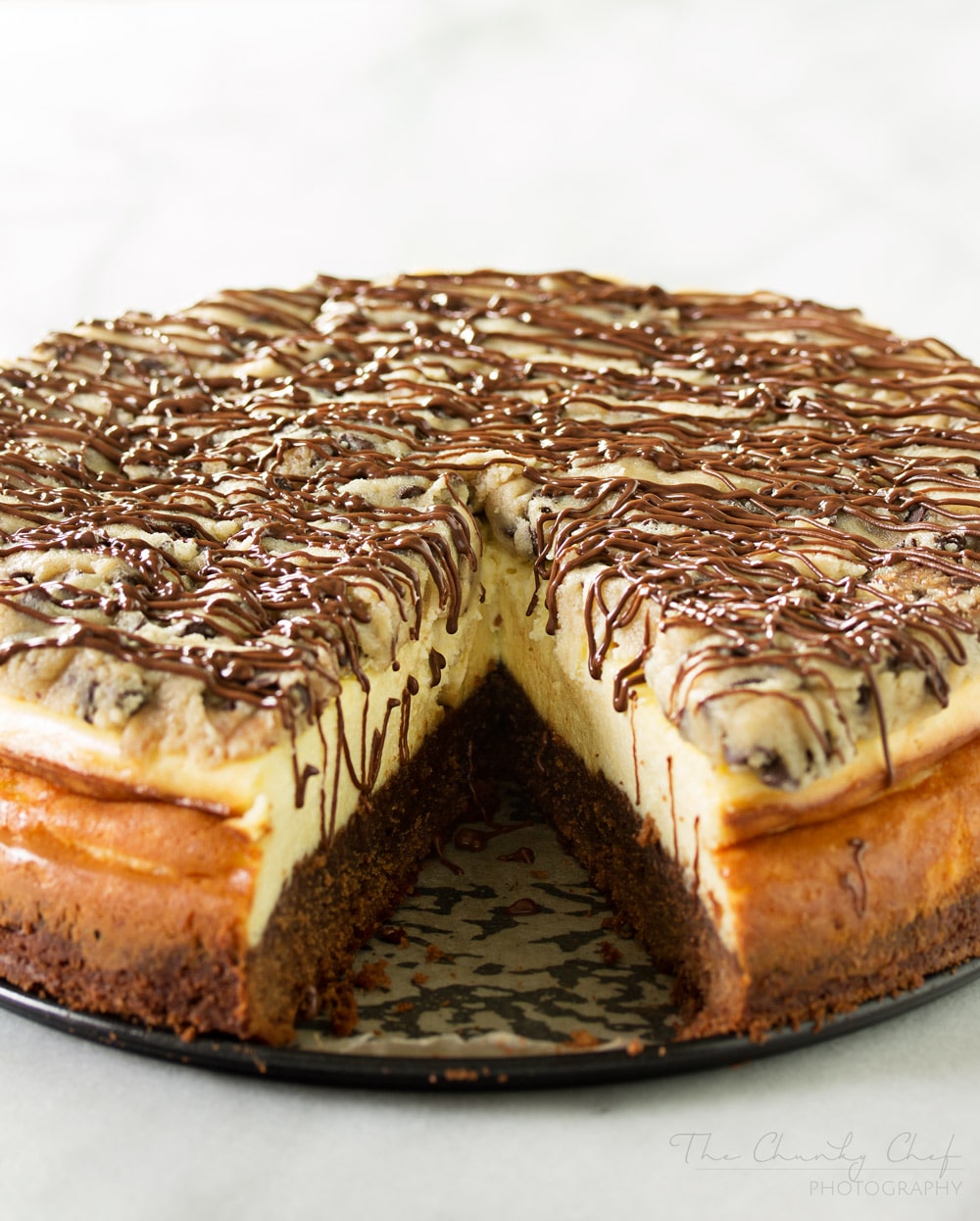 Brownie Layer
Brownie bottom cheesecakes are a thing now. It is decadent and very delicious. The brownie recipe didn't give me any problems. It is easy to make, even if, like me, you are more used to making brownies out of a boxed kit.
Once it was in the oven, I attacked the cheesecake layer and that was another story altogether.
2. Cheesecake Layer
Somewhere along this misadventure, I realized that it was not very wise of me to start doing an elaborate cheesecake when I'd never watched anybody make one, never made one myself and moreover, do not even like cheesecake. However, this is, after all, called a challenge for a reason. And, also, it was a labor of love. So, I pushed on.
For the second layer, the recipe says to put all the ingredients in a bowl and mix using a stand mixer or a hand mixer. Since I do not have a stand mixer, I tried to mix with a hand mixer. But, even at the lowest speed, it started to create bubbles almost immediately. Since the recipe clearly says that bubbles equal bad, I was not happy. As I mixed, with the hand mixer and later, out of desperation, with a whip, the cream cheese refused to become anything else than lumps.
Learn from my mistakes:
–    When it is specified in the recipe that the cream cheese (or butter) needs to be at room temperature, they must be at room temperature.
–    Prior to that, read the whole recipe before you start in case, for example, you need to put eggs, butter, cream cheese or else out of the fridge in advance.
–    When doing a cheesecake, you can make your life easier by beating the cream cheese alone and gradually add the other ingredients.
To learn more about cheesecake, I invite you to consult dessert queen Anna Olson:
Looking at my lumpy disaster, I reconsidered my life choices and decided to let the mix rest. I waited until the cream cheese was at room temperature before touching it again. As my brownie had then cooked for 25 minutes, I removed it from the oven and waited for the cheesecake layer to be ready before putting it back. In the end, thanks to a genius idea from my boyfriend (who loves cheesecake and was brought in as an expert), I passed the mix through a sieve and it removed all residual lumps.
3. Cookie Dough Layer
Luckily, the cookie dough layer did not give me the same kind of problems. You don't even have to bake for this step and I am confident in my abilities to mix stuff in a bowl.
The only thing I did differently than in the original recipe is using normal size chocolate chips in this layer. I didn't find small ones at the grocery store. The result was great anyway.
4. Chocolate drizzle
This is the finishing touch and, well, it was just fun. I finished the presentation with two-colors chocolate chips I found at the store because I thought it looked cute.
In conclusion, I survived my first dessert challenge. Yeah! I am happy with the result and I think the cake looked great. People who ate it thought it was really good, intense, but really good. Plus, my sister was happy. So to me, this is a nice success.
Good luck making this delicious dessert on your own! When you try it, be sure to tell me how it went 🙂